FreeWheel Into The Woods
Posted October 7, 2016
It was just an ice cream cone. Cake cone with Quarterback Crunch, perhaps a subliminal choice due to my passion for football. Perhaps a chance to go wild and dance on a table, if I could. But it could have been black molasses for all I cared. I was out of the house at Baskin & Robin with my littlest one watching her Rainbow Sherbert swirling down her chin.
Yesterday was a whirlwind in and of itself. A feeling of desire for accomplishments nipped at my wheels. It was to day to make something happen, no matter what it was. From the moment my eyes opened, and once the morning pains were managed enough to think, I got on the emails. Random thoughts on things that could be accomplished tapped one lobe and then the other. There is a product called the FreeWheel, it is a third wheel attachment to my chair that allows my wheelchair to go over almost any type of ground cover and it has changed my life. For once I am able to go camping and tread where others go. I can go to the beach, into the wood, and through bodies of water (not too deep, that would be wrong). I made a video one day showing all the wonderful things it can do and shared it with family and friends.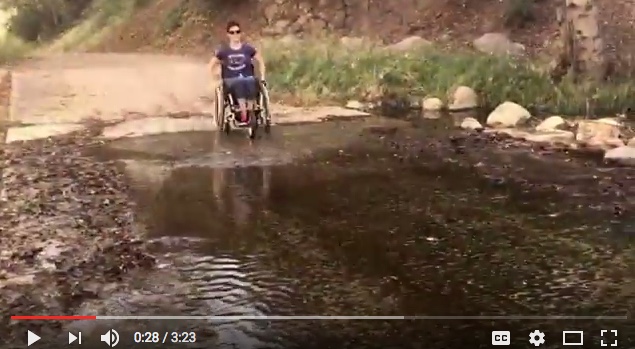 So as I was laying in bed yesterday morning and thought maybe I should send my video to FreeWheel just to share with them how their product has affected my life and those of my family as well. Type, click, send. Ding! Reply to my email, and a door opened I never knew was there. They asked if they could use the video on their site and to send to all of their international distributors. Their North American distributor, Epical Solutions, is a non-profit whose parent company is The Steadfast Foundation, founded by professional Vancouver Canucks hockey player and two-time Olympic goalie Ryan Miller and his father, Dean to help improve the lives of individuals who face mobility challenges. Their goal (no pun intended) is to find creative ways to bring exposure to FreeWheel to us challenged no matter the age. From children to old fuddy duddies like me. Ok, maybe not fuddy duddy, but the 'old' part is surely creeping in. The list of possibilities is endless, our current focus is to feature the FreeWheel at professional sporting events including a focus to bring this incredible life-changer to our returning wounded who think life as they knew it is over. It's never over, it is just morphing into something you just might look at one day for its blessings more than its trials. at least that is where I am trying to do. I have been so fortunate to have learned by example having worked with our wounded for years prior to my incident. I was able to observe the power of human nature by being surrounded by men and women who sacrificed everything for our country, even their bodies. I wasn't blown up in the middle of nowhere thousand of miles from home. Yet each of those I have worked with and now called family have made perserverance possible, and it is my hope now that I might share this tool with as many wounded as possible to show them that life can still kick you in the but to have a grand ole time with something so very simple as a third wheel attachment.
I watch my little girl chase the sherbert as it trickles down the cone. This smallest of moments now seems so poignant, reminding me that nothing is over forever. When I was in bed for a year, I never thought I would be able to exit my front door again, but I did. With too many surgeries and procedures than we can count, I never thought I would be able to sit with my daughter to chase rivers of sweetness sitting inside a Ben and Jerry's, yet I did. Months ago the Arachnoiditis flares left me in bed 90% of the time and I thought life was over as I knew it, forever. Yet today I want to get out, be out, and do more than ever before. This will come. But for now, I am reminded that life is about connections, love and service. And if sharing this tool / discovery with others just might help others to feel the same, then we can all move forward in more ways than one, that is the sweetest thing of all.